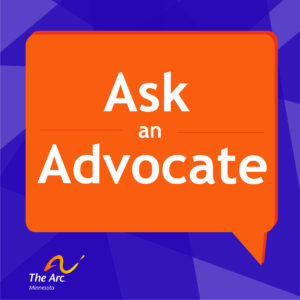 Q: I keep hearing about the Self-Advocacy Advisory Committee (SAAC), but I'm not sure what that committee is. Can you tell me the types of events they do?
A: The Self-Advocacy Advisory Committee (SAAC) is one of The Arc Minnesota's self-advocacy groups. This group meets in St. Paul on the second Tuesday of every month, in the evening. Leadership within this group has grown, and they host many events. Here are some highlights:
In October, they hosted a panel about self-advocacy. People shared their stories about self-advocacy, employment, education, relationships, moving out, money, and other topics. This event was geared towards parents of people with disabilities.
Also in October, they began meeting with Cow Tipping Press for writing workshops. Over several sessions, committee members have been learning about expressing themselves through creative writing.
In November, the Minnesota Olmstead Implementation Office led a community listening session in partnership with the SAAC.
For more information about the SAAC or other self-advocacy groups across the state, contact The Arc at 833.450.1494.